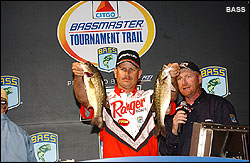 Todd Auten finished 11th in the Elite 50. The top 10 qualified for the Classic.
It would be hard to find a more disappointed guy than Todd Auten.
For the last six months and through two different avenues, the 38-year-old South Carolina pro feverishly worked to qualify for the upcoming world championship, the CITGO Bassmaster Classic presented by Busch Beer.
All competitive bass anglers aim for the Classic each year, but it was different for Auten. He was driven by a special urgency because Classic XXXIV is set for his home lake, Lake Wylie.
In the end, Auten came up agonizingly short.
In the CITGO Bassmaster Tour standings, he finished 42nd. When all the crossovers from anglers who qualified from the Tour and Bassmaster Elite 50 series were settled, he was just four positions away from qualification.
If that weren't bad enough, Auten finished 11th in the Bassmaster Elite 50 series. The top 10 finishers were awarded tickets to the Classic.
"It's been on my nerves all year," said Auten, who finished just four points behind 10th-place angler Dustin Wilks in the Elite 50 standings. "Then this last tournament on the last day when I had done all I could do, it was like a big relief — it felt like a big pressure was taken off because I knew I couldn't do anything but sit back and wait.
BASS
Qualifiers from the Southern Open into the 2008 Bass master Classic, three-time Classic qualifier Todd Auten
On the way to the classic he had a 8th place at Santee cooper,2nd place at wheeler, and a 14th at Kissimmee